They say riding long distances builds character. At the time when your legs are tired, you've covered quite a bit of terrain and all you want to do is stop and rest, you're faced with a sizable hill that will test your every resolve to make it to the top without stopping.
Riding long distances is a challenge. Not only does your body fatigue, your mind can fatigue too. Concentrating on riding a straight line in a bunch all day long so you don't knock bars or wheels; listening to the sound of the traffic to determine when passing cars/trucks might approach; or focusing your mind to push through the pain and fatigue in your legs can wear you down quite quickly.
Riding long distances takes determination and discipline. Especially when there's an easy way out. The temptation of the support car or one of the buses is always an 'available' option if you really want it. But, with determination and resolve to finish, you stay on your bike and keep pedaling. Because you set goals, standards and expectations of yourself. And should you give up on those expectations, you feel gutted.
As in life, we face many similar challenges. Most kids are fortunate enough to live a comfortable childhood, loved and provided for by their parents; shown, taught and praised for achieving their goals.
Youth Off The Streets doesn't know the fortunate kids. The kids in their programs have great difficulty with achievement, motivation, discipline…because at an early age, and for whatever reason, they find themselves living on the street, without the necessary support in place to give them the life skills mentioned above.
As you may have read earlier during the week, the Sydney to Surfers Cycle Ride has four Youth Off The Streets kids on the ride across 1,000 kms from Sydney to Surfers Paradise. What makes this special is that the sum total of training rides between all four riders sums no more then two.
Even better…one of the kids (name suppressed) is so determined to complete the entire ride that he's putting some seasoned riders to shame! For a youth who has never ridden an elite road bike before, barely trained for it and is still facing almost 300 more kms, this is an incredible task to take on.
His journey requires character, concentration, determination and discipline.
This ride is more than just a week away from the hostel to pedal all day and eat like kings. These kids will take away from this experience some valuable lessons in many of the life skills they have been previously deprived. For the rest of us, we take away the knowledge and satisfaction of completing the ride to our sponsor's expectations, and in the process raising much needed funding to keep Youth Off The Streets and Fr. Chris Riley active in providing homeless and disadvantaged kids with the skills they need to make it through.
Win/win. Can you ask for anything better than that?
Thanks for reading. Please watch the video below and throw a few dollars toward Youth Off The Streets if you can spare it.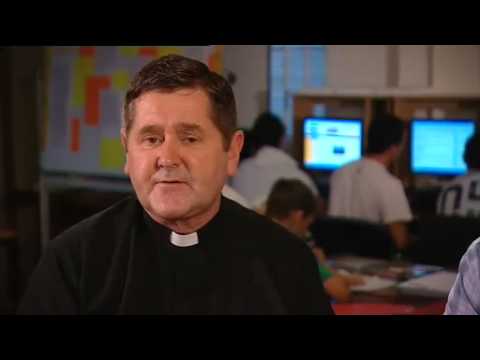 Cheers 🙂
About the Author: Brendon Walker from Centric Social Media is on loan to the Sydney to Surfers Bike Ride for the week to shoot pics and blog. He also doubles as one of the event bus drivers. His week long goal is to stay dry inside the bus, brag about that to the riders, and capture a spectacular crash in high resolution pixels. He enjoys long walks along the beach, but only if he gets to take his iPhone and tweet about it.